Showing 1–6 of 36 results
Garage Saunas: Everything You Need to Know
years, garage saunas have gained significant popularity as individuals seek solace and tranquility within the confines of their own space. Among the many innovative additions to the modern home, the garage sauna stands out as a remarkable retreat, offering a unique blend of health benefits and rejuvenation.
When looking to install a sauna in your garage, we recommend infrared saunas. Choosing an infrared sauna for your garage provides efficient heating, space-saving design, easy installation, energy efficiency, and a range of health benefits. With careful consideration and proper setup, an infrared sauna can transform your garage into a blissful retreat. Traditional saunas need ventilation and routine cleaning whereas an infrared sauna offers a stressless way to relax with little upkeep necessary.
Transforming an ordinary garage into a luxurious oasis has never been easier, and in this blog post, we delve into the wonders of the garage sauna and show you the best DIY kits available to purchase.
Why Choose the Garage for Your Sauna?
The garage, typically associated with car storage and DIY projects, might not be the first place that comes to mind when contemplating a sauna for your home. However, the inherent characteristics of a garage, such as privacy, ample space, and ease of access, make it an ideal candidate for a rejuvenating sauna transformation. With a little creativity and thoughtful design, the garage can be converted into a tranquil space that promotes wellness and self-care.
Health Benefits of Putting an Infrared Sauna in Your Garage
Infrared saunas offer various health benefits similar to those of traditional saunas. The radiant heat from infrared waves penetrates deep into the body, promoting detoxification, increased circulation, muscle relaxation, and stress reduction. The gentle heat generated by infrared saunas is also well-tolerated by many individuals, allowing for longer and more enjoyable sauna sessions.
Best Saunas For the Garage
Best for Singles and Couples: Maxxus Serenity
The Maxxus Serenity 2 Person Dual Tech Low EMF Indoor FAR Infrared Sauna features Canadian hemlock construction and a full-spectrum heater that provides even heat distribution throughout the sauna. With its intuitive digital control panel, ergonomic backrests, and built-in sound system, the Maxxus Serenity is the perfect addition to any home gym or relaxation space. It's great for personal use, or for couples.
Another Option for Singles and Couples: Dynamic Gracia 1-2 Person Sauna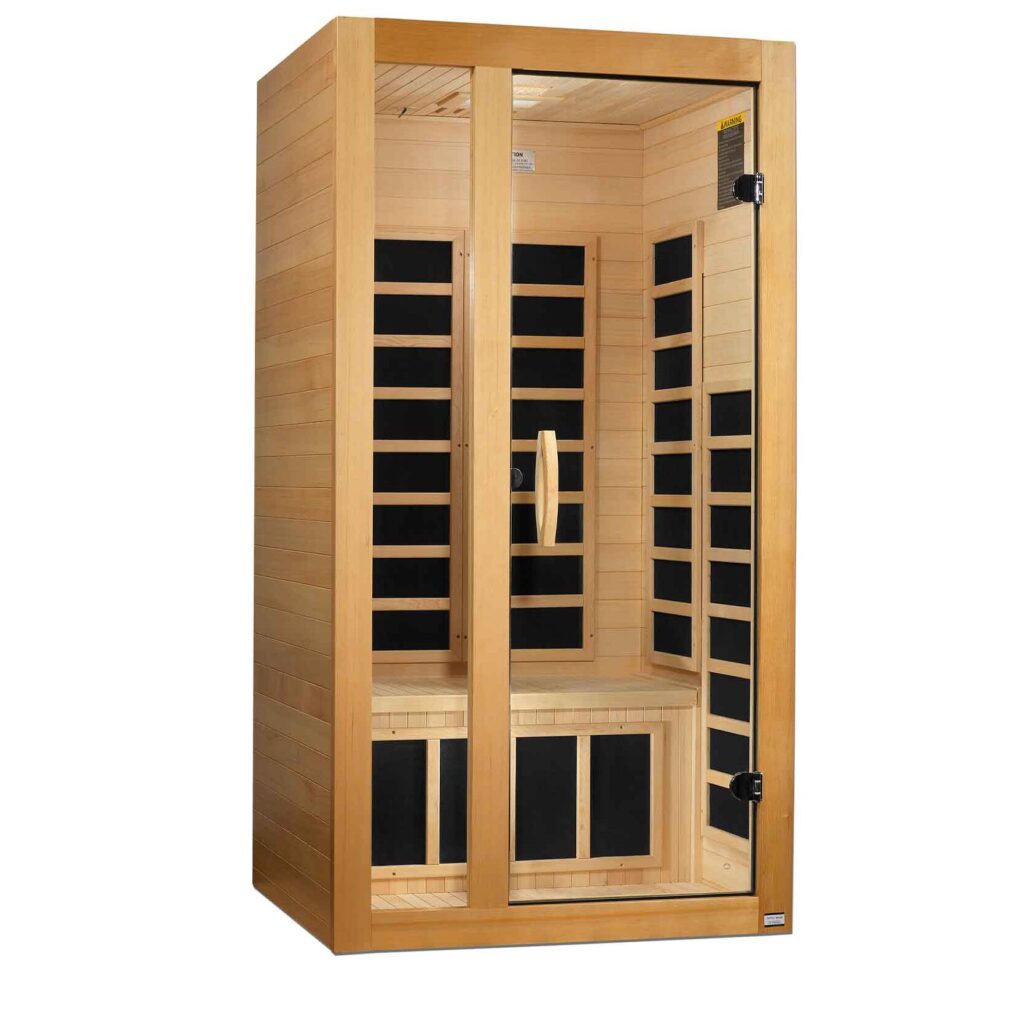 The Dynamic Gracia Sauna is another outstanding option for those seeking a luxurious sauna experience. Crafted with Canadian Hemlock wood, it exudes elegance and sturdiness. This compact two-person sauna is perfect for individuals or couples seeking a private retreat within their homes. It features six low-EMF carbon heating panels that emit gentle, evenly distributed infrared heat, enveloping you in soothing warmth. The built-in sound system with MP3 auxiliary connection elevates your experience, allowing you to enjoy your favorite music while unwinding in the sauna.
Best Full Spectrum Option
The Golden Designs 3-Person Full Spectrum Hemlock Indoor Infrared Sauna is a remarkable sauna that offers an exceptional sauna experience for up to three people. The high-quality Hemlock wood construction provides durability and aesthetic appeal, while the full spectrum infrared heaters deliver deep-penetrating heat for maximum therapeutic benefits. The inclusion of chromotherapy lighting enhances the overall ambiance, promoting a sense of tranquility and rejuvenation.
Best Option for Big Groups: Dynamic Monaco
The Dynamic Monaco 6 Person Sauna Near Zero EMF is a multi-tiered indoor infrared sauna with enough space to sit back and enjoy your favorite tv show or movie on the built-in LCD monitor.  Truly one of the most unique infrared sauna kits you can find, the Monaco Elite 6-Person Far Infrared Sauna is built from Canadian Hemlock and features 15 PureTech Carbon Infrared Panels, chromotherapy lighting, and floor-to-ceiling tempered glass. It goes great in the garage or in the basement.
FAQ Regarding Garage Saunas
Why should I consider installing a sauna in my garage?
Transforming your garage into a sauna offers a multitude of benefits. It provides a convenient and private space for relaxation, rejuvenation, and self-care. Instead of going to a spa or gym, you can enjoy the luxury of a sauna experience right at home. Plus, it adds value to your property and can be a unique selling point if you ever decide to move.
Is a garage sauna a worthwhile investment?
It's an investment in your well-being and overall quality of life. Not only does it offer immediate health benefits, such as improved circulation, detoxification, stress relief, and better sleep, but it also provides long-term value. Saunas are known to promote overall wellness, which can lead to fewer health issues and reduced healthcare costs in the long run.
Can a sauna in the garage fit into my lifestyle?
One of the significant advantages of a garage sauna is its adaptability to your lifestyle. Whether you lead a busy life or prefer to relax in the evenings, a sauna in your garage allows you to indulge in rejuvenation at any time that suits you. It provides a quick escape from the demands of everyday life, allowing you to unwind, recharge, and prioritize self-care.
Is it difficult to convert a garage into a sauna?
Converting a garage into a sauna oasis is a manageable project that can be accomplished with ease. There are numerous sauna kits and professional services available that can guide you through the transformation process, ensuring a seamless and hassle-free experience.
How does a garage sauna compare to other sauna options?
A garage sauna offers unique advantages over other sauna options. Unlike public saunas, it provides ultimate privacy, allowing you to enjoy your sauna sessions without interruption or sharing the space with strangers. Compared to outdoor saunas, a garage sauna offers a more controlled environment, protecting you from weather conditions and ensuring consistent temperatures year-round.
Will a garage sauna affect my energy bills?
The saunas on our list use energy-efficient infrared heating and are designed to minimize energy consumption. With proper insulation and efficient heating systems, the impact on your energy bills can be minimal. Plus, the benefits you gain from regular sauna sessions far outweigh any marginal increase in energy costs.
Can you put an infrared sauna in the garage?
Safety is a top priority when setting up a garage in the sauna. By following proper installation guidelines, ensuring proper ventilation, and consulting professionals for electrical work, you can create a safe sauna environment. Additionally, modern sauna technology incorporates safety features such as automatic shut-off timers and temperature controls, further enhancing the safety of your infrared garage sauna.