If you are looking for a sauna for your home or business, chances are you've come across the name Sunlighten Sauna. In this article, I'll go over company details about Sunlighten infrared saunas, compare the different models they offer, take a look at the prices, and suggest some alternative models and brands.
Sunlighten Sauna Review
For private use or commercial use, Sunlighten produces infrared saunas. All you need are common household tools to assemble one of their modular home saunas. They also do custom sauna designs for businesses and individuals who want something special for their homes.
One of the few sauna manufacturers in the United States that is involved in every stage of production is Sunlighten Saunas, which began producing its infrared saunas in the early 2000s. Inevitably, this causes the price of the final product to skyrocket along with its quality.
Instead of using laminate or fake wood like some other manufacturers, Sunlighten uses the highest quality dry wood to make their infrared saunas. As a result, the finished sauna is nearly twice as heavy and considerably more sturdy than its rivals.
Machine learning is used to make precise cuts in the wood, which are then outfitted with modern lighting and electrical components that have been tested and approved by the Electrical Testing Laboratory (ETL). The sauna is assembled one last time before being shipped to the customer to ensure that all parts fit together and function as intended, so you know you're getting a quality product when it arrives at your door.
Health Benefits of Sunlighten Saunas
Sunlighten uses infrared technology instead of heat or steam traditionally thought of with saunas. Infrared light has the ability to penetrate the skin without heating and offers a feeling similar to sunbathing. However, unlike sunbathing, infrared heat therapy is safe, and will never cause your skin to burn. Check out some amazing benefits of infrared saunas for home below:
Detoxification
Doctors will tell you, one of the best ways to naturally detox is through sweat. Sweating is a natural, healthy, and safe way for your body to expel excess toxins and leave you feeling refreshed and more energized. Sunlighten infrared saunas result in the average person sweating out 20% toxins and 80% water, compared to 3% toxins and 97% water in a traditional sauna.
Weight Loss
Along with sweating as I mentioned above comes weight loss. The heat in the sauna leads to an increase in heart rate and a higher internal body temperature. This results in burning up to 500 calories in a 30-minute session.
Pain Relief
Heat has been well known to assist with pain relief, relaxation, recovery time. Sunlighten infrared saunas combine heat, and infrared light to treat pain and speed up muscle recovery.
Blood Pressure Reduction
Sunlighten's Solocarbon® heaters were shown to lower pressure after using three times a week for 30 minutes in a clinical study by the University of Missouri Kansas City in 2005.
Improved Circulation
Sunlighten saunas heat your muscles with infrared rays and produce an increase in blood flow similar to regular exercise. Blood flow during infrared sauna use has been reported to rise from a normal rate of 5-7 quarts per minute to as much as 13 quarts per minute.
Blood flow during infrared sauna use has been shown in some studies to almost double to 13 quarts per minute while in the sauna. Using the sauna regularly throughout the week can result in this increase in blood circulation becoming healthy even when not in the sauna.
Cell Health
Sunlighten infrared saunas stimulate your body's cellular system, causing toxins to flow from a cellular level to the skin's surface. This improves cell health, aids in muscle recovery and strengthens the immune system.
Comparing Sunlighten Sauna Models
Sunlighten mPulse
CUSTOMIZABLE NEAR, MID & FAR IR SAUNA
Your health and wellness are in your control with Sunlighten's premier, patented 3 in 1 full spectrum infrared sauna. This is the first sauna in the world that allows you to customize each wavelength for the specific health benefit you desire.
Amplify Full Spectrum Sauna
YOUR SAUNA SESSION AT THE NEXT LEVEL
The Amplify full-spectrum sauna induces a deep, fast sweat to help you feel relaxed and rejuvenated. This sauna offers the maximum physical benefits of full-spectrum infrared therapy in a more intense, hotter heat. It is amplified by halogen heaters for the best possible experience.
Signature Far Infrared Sauna
MOST EFFECTIVE FAR INFRARED SAUNA
The signature far infrared series is a simple yet elegant sauna and one of the best-priced models Sunlighten offers. It offers SoloCarbon® heating technology which delivers the highest quality of far infrared heat. this sauna looks great and fits in any space.
Solo System Portable Sauna
PORTABLE FAR INFRARED SAUNA
If you are looking for a space-saving portable sauna, this is your best option. With Sunlighten's best-in-class far infrared heating technology, you can detoxify, destress, boost immunity, and improve circulation anywhere in your home. The portable sauna is comfortable, effective, and well within most people's budget.
Alternatives to Sunlighten Saunas
Due to Sunlighten Sauna prices, many customers choose a different brand. While we think Sunlighten is a good brand, we agree with our customers that paying close to ten grand for a sauna is just not realistic. The following models and brands are great alternatives that won't break the bank.
Aleko Saunas
Dynamic Saunas
Golden Design Saunas
Maxxus Saunas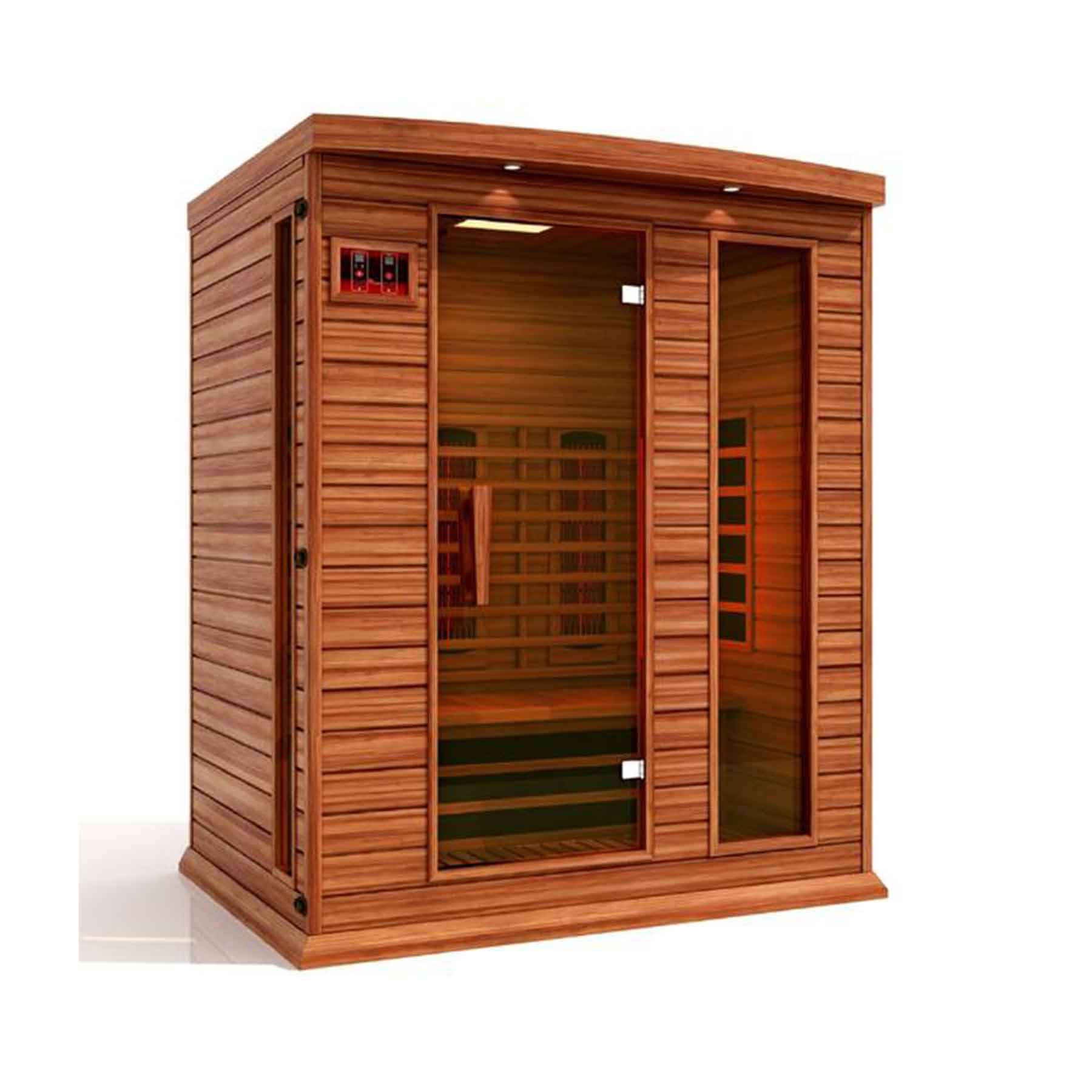 Enlighten Saunas